Background
The conronavirus pandemic broke out in worldwide in 2020. Due to the lack of regional medical resources, patients cannot be treated in time in the sudden public health incident. Telemedicine has been playing a huge role, it allows healthcare providers to evaluate, diagnose and treat patients without the need for an in-person visit. Telemedicine is the remote delivery of healthcare services, including exams and consultations via 5G/4G communicationit, not only realize doctor rounds, patient remote monitoring, pharmacist dispensing and distribution, medical equipment management, drug inventory management, electronic medical record reference, etc. also can eliminate the possible transmission of infectious diseases or virus between patients and medical staff.
WLINK Solution
Equiping WLINK 5G/4G cellular router integrated in medical equipment, such as hospital ultrasound, ECG, etc., it canprovide a reliable and stable 5G/4G network connection while being moved throughout the hospital as needed. Telemedicine enables medical professionals to monitor real-time status of the mobile equipment and patient updates from anywhere at any time via 5G/4G network, and send real-time operation data of the medical equipment to the monitoring room. It significantly reduces the number of times for medical staff to check equipment and patients in wards, greatly saves time and improves work efficiency.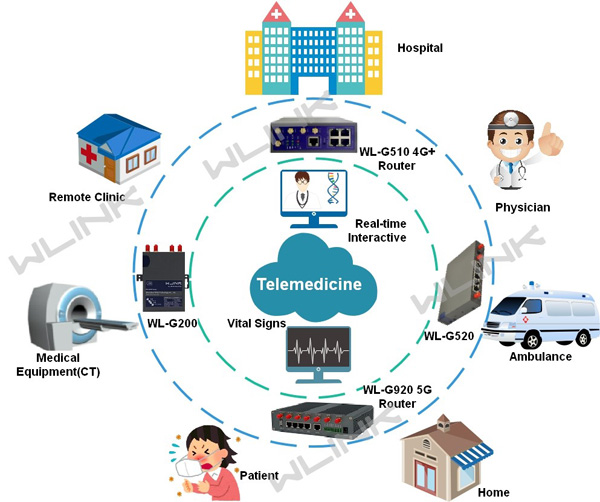 Feature
1) Store and forward
Store-and-forward telemedicine involves acquiring medical data (like medical images, biosignals etc.) and then transmitting this data to a doctor or medical specialist at a convenient time for assessment offline. It does not require the presence of both parties at the same time. A properly structured medical record preferably in electronic form should be a component of this transfer.
2) Remote monitoring
Remote monitoring, also known as self-monitoring or testing, enables medical professionals to monitor a patients remotely using various technological devices. These services can provide comparable health outcomes to traditional in-person patient encounters, supply greater satisfaction to patients, and may be cost-effective.
2.1 Real-time interactive
Electronic consultations makes real-time interactive between patients and telemedicine service providers possible. Videoconferencing has been used in a wide range of clinical disciplines and settings for various purposes including management, diagnosis, counseling and monitoring of patients.
3)Videotelephony
Video phone uses the technology of receiving and transmitting audio and video signals, and realizes real-time communication between users in different positions through 5G/4G network.
Benefits
1) Increase access to care
Telemedicine can overcome geographical barriers, especially for professional providers, but also for communities with inadequate medical services and patients in rural areas with a shortage of clinicians.
2) Improve quality of care delivery
Telemedicine can improve the quality of care for patients with both medical and mental health conditions, provide convenient home healthcare services to meet the needs of an aging population. ;
3) Reduce healthcare costs
Telemedicine can increase efficiency of care delivery, reduce expenses of caring for patients or transporting to another location, and can even keep patients out of the hospital.
4) Enhance traditional face-to-face medicine
Telemedicine support instead of replacing traditional medical services. With telemedicine, medical service providers can continue to take care of patients in person, at the same time, when necessary, they can still provide flexible remote visit, follow-up, examination and education for patients.
5) Improve patient engagement and satisfaction
Telemedicine makes it easier and more convenient for patients to stay healthy and engaged in their health care. Patients love the convenience, flexibility and real-time care with healthcare personnel. Specially, improving the quality of life of patients with chronic diseases by providing more effective healthcare
5.1) Improve healthcare personnel satisfaction
Telemedicine can make it easier for medical staff to contact with patients, make it easier to balance work and family life, and improve job satisfaction.
Related Products
WL-G920 /G510 series 5G/4G+ router, basic features incldues:
1. Industrial robust, heavy-duty metal enclosure for shock and high vibration environments
2. High data speed via 5G+ or 4G+ network, 4G/3G backward compatible
3. VPN and encryption technology ensure data security
4. Strong electromagnetic interference Resistance
5. Built-in watch dog, Multi-link detection
6. Gigabit Ethernet ports for networking flexibility
7. High speed dual-band 2.4G/5G Wi-Fi and integrated hotspot functionality
8. Equipped with Dual SIM for Failover or Backup between two different operators
---End